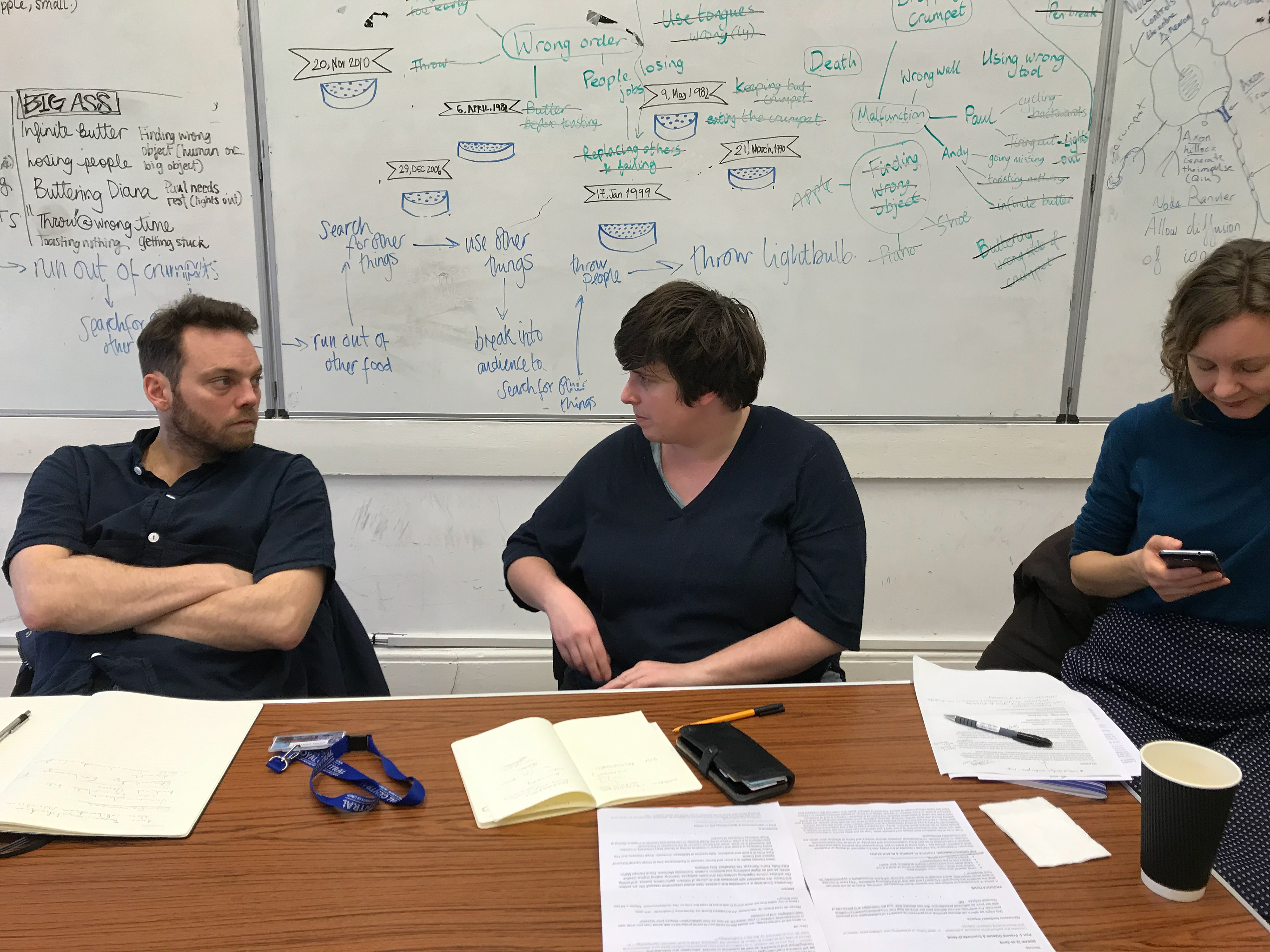 A session by Generative Constraints Committee on Monday 24th Feb 2020 at Royal Central School of Speech and Drama. 
This workshop will explore collaborative practice research. Stemming from Generative Constraints' work, we will examine methodologies in collaborative practice research. We will consider disciplinary regimes, nonalignment and procedure, as well as questions of context, articulation and institutionality. Come prepared to talk about how you work with or conceptualise practice in your research, as well as how collaboration shapes your research methodologies and processes.
The Undercommons: Fugitive Planning & Black Study (2013) by Stefano Harney and Fred Moten and 'Break Up Variations: An Annotated Score' (2019) by Generative Constraints.
Write against your work / your collaboration.
Define your work / your methodology in terms of what it is not.
What does your work resist? What's at stake in your work?
What's lost in the collaboration?
What's joyful?
Generative Constraints is a committee that practises open-ended collaborative research into art, politics, and theory. We experiment with processes and structures of criticism, performance, poetics, and writing. Our activities include organising conferences and public dialogues, teaching, making original creative works, as well as digital publishing and exhibition curation. Committee Members: Diana Damian Martin, Kate Potts, Nisha Ramayya, Nik Wakefield, Eley Williams.
Diana Damian Martin is a writer and Senior Lecturer in Performance Arts at Royal Central School of Speech and Drama.
Kate Potts is a poet and academic. Kate teaches at Middlesex University, Royal Holloway and The Poetry School.
Nisha Ramayya is a poet and Lecturer in Creative Writing at Queen Mary University of London.
Nik Wakefield is an artist, writer and Senior Lecturer at the University of Portsmouth.
Eley Williams is a writer, Fellow of the Royal Society of Literature and Lecturer in Creative Writing at Royal Holloway University of London.